Sonad Records
Eric Stumacher
Piano Meditations CD
"Stumacher in each of the meditative works heard in this recital evidences an understanding of the internal construction of the piece. His touch is sensitive, his phrases well-shaped, and the loving care he places on each piece is as though it is something to be savored, such as a delicate morsel or a fine wine… The CD provides the listener an uninterrupted hour and a quarter of relaxing meditation-inducing music. If you're looking for a CD with which to unwind after a long hard day, this may be just what the doctor ordered."
– Fanfare Magazine Review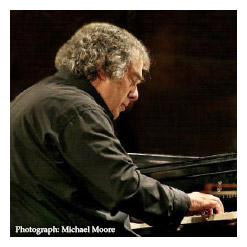 ERIC STUMACHER
"EXTRAORDINARILY EFFECTIVE"
– New York Times
Eric Stumacher, founder and director of the Sonad Project, has performed concerti, solo recitals, and chamber music concerts worldwide to critical acclaim for over forty years. For thirty-five years, Eric served as Founder, Pianist, and Executive and Artistic Director of the Apple Hill Chamber Players, Apple Hill, and Apple Hill's Playing for Peace Project, before resigning in October 2007 to found the Sonad Project. Eric is a graduate of the University of Pennsylvania and The Juilliard School. He is also the Founder, Music Director and Conductor of the Keene NH/USA Chamber Orchestra (kcorch.org). Eric lives in Swanzey, NH. He and his wife Kathy, retired violist, administrator, and child education specialist, have three amazing children and eight astonishing grandchildren.
Piano Meditations CD Program
Prelude and Fugue in B Minor, WTC I, BVW 869 15.13
J. S. Bach (1685 – 1750)
Gymnopédie No. 1 4.28
E. Satie (1866 – 1925)
Girl with the Flaxen Hair 2.36
Debussy (1862 – 1918)
Nocturne in C-Sharp Minor, Op. post. 3.26
F. Chopin (1810 – 1849)
Promenade and Old Castle from "Pictures" 5.04
M. Mussorgsky (1839 – 1881)
Intermezzo in E-Flat, Op. 117, No. 1 5.45
J. Brahms (1833 – 1897)
Intermezzo in B Minor, Op 119, No. 1 3.57
J. Brahms (1833 – 1897)
About Strange Lands and People 2.19
R. Schumann (1810 – 1856)
Traumerei (Reverie) 2.46
R. Schumann (1810 – 1856)
Sonata in A, D. 664: Andante 5.13
F. Schubert (1797 – 1828)
Sonata in B-Flat, D. 960: Molto moderato 13.08
F. Schubert (1797 – 1828)
Sonata in B-Flat, D. 960: Andante sostenuto 9.56
F. Schubert (1797 – 1828)
Program Notes (Interesting Facts)
1. Bach: Prelude and Fugue in B Minor, BWV 869
The fugue subject uses all twelve tones; hence this work is likely the first piece of twelve-tone music ever composed. There are three episodic sections of stunning, breathtaking beauty. At the end of this work, Bach wrote in the score the initials symbolizing the phrase "Glory be to God."
2. Satie: Gymnodpédie No. 1
Satie, a close friend of Debussy, was noted for playing his music on a piano in his favorite Paris cafe for hours on end. His concept included that it doesn't matter where you start, where you end, or how long you play; the goal is to immediately access and convey vivid beauty and expression.
This work was re-popularized by its inclusion in the 1972 album "Blood, Sweat, and Tears."
3. Debussy: Girl with the Flaxen Hair
After their composition, Debussy insisted that his two books, Preludes for Piano, which included this work, be performed without titles. He wanted the audience to use their imaginations with total freedom. Debussy agreed later in life to add titles in small print at the end of each piece, e.g.
"….Girl With the Flaxen Hair"
4. Chopin: Nocturne in C-Sharp Minor, op. post.
This stunning work was popularized in the movie "The Pianist", in a performance depicted in a radio station in Warsaw which was being bombed by the Nazis during the broadcast.

5. Mussorgsky: Promenade and Old Castle from "Pictures at an Exhibition"
Mussorgsky used to gather with his composition friends, to the accompaniment of profuse food and drink, to rail against the "predictability" of German music. He was famously quoted: "With Beethoven, you always know what you are struggling against and how it will end."
6. Brahms Op. 117, #1
Brahms loved folk music, and this work is based on a Scottish lullaby.
"Sleep softly my dear child. I wish that your sleep would not be disturbed."
7. Brahms Op. 119, #1
This work was one of the very last instrumental works Brahms composed. In a letter to his dear friend Clara Schumann, he wrote that "it is not possible to be too filled with melancholy when playing each phrase of this work." Schoenberg was inspired by the extreme harmonic adventurousness of this and other Brahms offerings of the time to write a famous essay entitled "Brahms the Progressive", flying in the face of conventional wisdom in Germany in the late 1800's that Wagner was the "progressive" and Brahms the "conservative."
8 and 9. Schumann Scenes from Childhood: About Strange Lands and People; Traumerei.
Scenes from Childhood were adoringly played by Robert and Clara Schumann for each other many evenings as part of their courtship. And both of them played these works as favorite bedtime stories for their children.
10, 11 and 12: Schubert Andante from D. 640 and Molto moderato and Andante sostenuto from D. 960.
These stunningly beautiful, profound, and moving works were unpublished in Schubert's lifetime. Throughout his adult life, Schubert resisted his friends' attempts to have him perform his music in public. Schubert preferred to play his music in "Schubertiades", informal gatherings of his musician/friends. Schubert proclaimed: "This music is too difficult to perform in public." This non-public approach remained true in the last year of his tragically short life – he died at age 31 — during which Schubert composed not only the Sonata in B-Flat D. 960, the first two movements of which are presented here, but also the Great Symphony No. 9 in C, the song cycles Die Wintereise and Die Schone Millerin, and the Cello Quintet in C, among others. The textual and expressive parallels between the slow movement of D 960 and the slow movement of the Cello Quintet in C are remarkable.