"Never doubt the power of a small group of dedicated, committed citizens to change the world; indeed it is the only thing that ever has." Margaret Mead
"The world is a dangerous place, not because of those who do evil, but because of those who look on and do nothing." Albert Einstein
WHEN
Arrive Tuesday, July 14, 3 PM – Depart Sat, July 18, 8 PM (optional alternate departure Sunday AM July 19 for those with long-distance travel. You will stay Sat night either at Aldworth Manor or with a local host.)
WHERE
Aldworth Manor (https://www.thealdworthmanor.com), is located in Harrisville, NH, in the scenic Monadnock Region of Southwestern New Hampshire, a 2 hour drive from Boston and a 4 hour drive from New York City.
Aldworth Manor has some of the most amazing views in SW NH. Please explore Aldworth Manor by clicking on the link in the previous paragraph.
DRIVING DIRECTIONS:
Use this address for GPS:
184 Aldworth Manor Rd, Harrisville, NH 03450
*********************************
COMPONENTS OF THE SONAD JULY 14 – 18 WORKSHOP
I. Chamber Music Groups
-BRAHMS: String Sextet in G Major, mvts 3 and 4, coached by Eric Stumacher
-BRUCH: Octet for Strings last movement, coached by IlyaFriedberg
-STEINMETZ: "Three Pieces for Ten Winds", coached by Eric Thomas
-BARBER: "Summer Music" for Woodwind Quintet, coached by Robert Blake
-MOZART: Viola Quintet K. 593, mvt 1, coached by Marji Gere
-DVORAK:"Amrican"String Quartet, mvts 1 and 2, coached by Dan Sedgwick
MUSIC DOWNLOAD AND STUDY LINKS
BRAHMS: STRING SEXTET IN G MAJOR
Here is the link for the music:
https://imslp.org/wiki/String_Sextet_No.2%2C_Op.36_(Brahms%2C_Johannes )
Go to Sheet music, click on parts and search for your part. I
And here is a performance on youtube.
https://www.youtube.com/watch?v=UdGtj2eBzGo
***************
BRUCH: OCTET FOR STRINGS, OP. POSTH. LAST MVT
Music download: not available online.
Sets of parts can be purchased at sheetmusicplus.com
Sonad will email parts to the musicians in this group.
youtube performance:
https://www.youtube.com/watch?v=wqw3jnWmQWQ
*********************
BARBER "SUMMER MUSIC" WIND QUINTET
Score and parts purchase:
https://www.sheetmusicplus.com/title/summer-music-sheet-music/3171619?utm_medium=cpc&d=sem_sidecar&d=sem_sidecar&popup=false&popup=false&utm_source=google&ac=1&country_code=USA
youtube performance:
https://www.youtube.com/watch?v=_wNnzTVgN08
**************************
STEINMETZ: THREE PIECES FOR TEN WINDS
Parts and score are available for purchase at:
https://www.trevcomusic.com/products/steinmetz-john-three-pieces-for-ten-winds-score-parts-2fl-2ob-2cl-2bsn-2hn
Sonad will mail out parts to those who need them.
Youtube performance:
https://www.youtube.com/watch?v=0jIKUdmsxaQ
********************************
MOZART: VIOLA QUINTET IN G MINOR K. 593, MVT 1
Music download:
https://imslp.org/wiki/String_Quintet_No.5_in_D_major%2C_K.593_(Mozart%2C_Wolfgang_Amadeus)
NOTE: Go to SHEET MUSIC and click on PARTS.
Search for your part and download.
youtube performance:
https://www.youtube.com/watch?v=7tXKFycIpsI
**********************
DVORAK: "American" String Quartet, Op,96 mvts 1 and 2
Music download:
https://imslp.org/wiki/String_Quintet_No.5_in_D_major%2C_K.593_(Mozart%2C_Wolfgang_Amadeus)
Go to SCORE AND PARTS, search for your part, and download.
Youtube performance:
https://www.youtube.com/watch?v=BYdZvzxs5o0
**********************
II. Authors Group for Workshop Participants: coached by Tamara Plummer
Using the environmental and artistic energy all around us, we will create various experiences to engage in the word (written, experienced and unspoken). We will spend a good bit of timing exercising our writing muscles, while experiencing what these words feel like when we speak them out loud. This workshop will be an opportunity to integrate the performative and contemplative worlds of writing.
Tamara Plummer: [email protected]
III. Composers Group coached by Brian Friedland
Each composer will write c. 10 minutes of music for fellow composers in the group and/or other members of the workshop community as appropriate. This new music will be rehearsed and critiqued in the twice daily meetings, and then performed at the final workshop concert. The goal of the group is to provide a vibrant, inspiring, and challenging context for composers to work on and perform their own compositions. Brian Friedland, the composer group coach, has a strong background in both classical and jazz.
**************************************
THE SONAD WORKSHOP EXPERIENCE
All participants will have a focused and relaxed experience in their core group, culminating in a performance for the workshop community, the public, and invited guests. Our areas of emphasis will be expression and precision. Participants are encouraged to participate in the authors group. Community activities such as concerts, skit-night, parties, and abundant recreation, combined with excellent food, round out the Sonad workshop experience. Aldworth Manor, with scenic views of Mt. Monadnock, features comfortable sleeping and nearby bathrooms, hiking, dining and kitchen facilities, and other recreational options. Beautiful Harrisville Pond is a 5 min. drive. The participatory Sonad experience will include meal set up and clean up by all members of the workshop community.
FEES
$840 per participant, plus $95 admin fee, $935 all-inclusive.
$350 for significant other/companion.
$150 surcharge for single room.
Reasonable family rate on case-by-case basis.
Upon acceptance, a deposit of $350 will hold your place.
Sonad workshops aspire to the highest possible levels of artistic, technical, and expressive excellence. We seek to bring life to Sonad's mission to use participatory arts workshop and public presentations to build community across lines of difference. The cornerstone of our belief system is that all life on our planet is of equal value, to be revered and cherished by each of us. Sonad aspires to make the experience of crossing human divides available to everyone.
"If we genuinely want the horrors of the world to cease, we must fully commit ourselves to the concept that every voice, every life, is a treasure to be loved, revered, and protected." Eric Stumacher
PREVIOUS SONAD WORKSHOP MATERIALS
1) Please read about and peruse a previous Sonad Workshop, including photos, schedule, and other details, at:
https://sonadproject.org/2010/08/26/sonad-workshop-at-marlborough-nh/
2) Short stories created in a previous authors group can be enjoyed at:
https://sonadproject.org/2010/10/15/sonad-authors-stories
3) 2 MINUTE DOCUMENTARY BY EMILY FLEMMING
4) PLEASE EXPLORE THE SONAD WEBSITE, sonadproject.org, for further information about Sonad's mission, goals, history, and worldwide activities.
****************
SONAD WORKSHOP PARTICIPANT COMMENTS
"Thank you for an absolutely incredible, incredible week. It was just fantastic – there are not even words I can use to describe it. I met such wonderful people, reconnected with friends from college, played amazing music –just to spend four days surrounded by other talented artists, listening to incredibly beautiful music all day everywhere I walked — it was just phenomenal – and today, the Shostakovich was incredible—and I loved the Tetris, and the Brahms of course always makes me weep — and the readings were beautiful." ME
"Basic friendliness. Good projects. Composer group had multiple good outcomes. Good food, facility contributed to good atmosphere and good working conditions. Nice combination of fun and work. Lots of wonderful people around, and an atmosphere that encouraged nourishing conversation as well as fun." JS
"The participants in the painting segment were BRAVE, enthusiastic and curious, like young children first discovering the glory of color. It was refreshing to watch these artists discover another venue for their voice." JT
" I left feeling extremely in touch with who I was as a person. I felt loved. I felt appreciated. And, most importantly, I felt alive. This workshop awakened a spirit in me that was dead for so long; a spirit that will not be vanquished so easily anymore. Thank you!" BP
" WHAAAT?!! LV Beethoven" — joke at Skit Night"
********************
SONAD SUMMER 2020 JULY 14 – 18 WORKSHOP COACHES
ERIC STUMACHER, piano/director
Eric Stumacher, founder and director of the Sonad Project, has performed concerti, solo recitals, and chamber music concerts worldwide to critical acclaim for over forty years. For thirty-five years, Eric served as founder, pianist, and executive and artistic director of the Apple Hill Chamber Players, Apple Hill, and the Apple Hill International Tour and Scholarship Project, before resigning in October 2007 to establish the Sonad Project. He is a graduate of the University of Pennsylvania and The Juilliard School. Eric is also the founder, music director, and conductor of the Keene (NH/USA) Chamber Orchestra, kcorch.org. He resides in Swanzey, NH. He and his wife Kathy have three amazing children and eight astonishing grandchildren.
ERIC THOMAS, Clarinet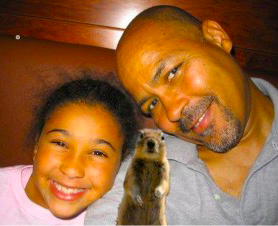 Praised as a virtuoso musician by Juilliard String Quartet founding member Robert Koff and cited as "the finest clarinetist in the world" by classical expert Gene Pack, Eric Thomas received the bulk of his training from Peter Hadcock during his studies at New England Conservatory of Music. He has received critical acclaim from the New York Times, the LA Times, the Boston Globe, and Downbeat Magazine. Eric has served as assistant conductor to Ms. Sarah Caldwell of the Opera Company of Boston, assistant conductor of the Phillips Exeter Orchestra, Interim Conductor for the orchestras of Phillips Academy Andover and Colby College, and guest conductor of the Bangor Symphony. An active clarinet performer, he has appeared as guest artist with the Apple Hill Chamber Players, the Sylvan Winds of New York City, the Bravo Festival at Vail, the Moab Music Festival, the Boston Pops Traveling Ensemble, and the Cabtrillo Festival of Contemporary Music. Eric is Director of Bands and Adjunct Professor of Clarinet at Colby College. Eric is also the Director of Performance at the University of Maine Farmington, where he directs the orchestra, band, and jazz programs.
TAMARA PLUMMER, author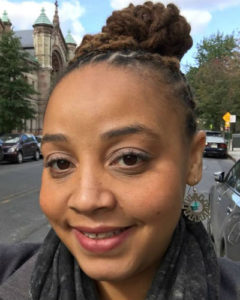 Tamara is a story teller, facilitator, guide, communicator, daughter, aunt, friend, trainer and binge watcher. As the Asset Map Coordinator at Episcopal Relief & Development, she works with staff of The Episcopal Church to empower church communities to embrace, hone and share their stories of ministry, mission and faith. Her love for poetry and writing were developed and nurtured as a student at Bard College. She received a MA in Education from Bowling Green State University and worked with student leaders at The University of Vermont to plan and execute events. In addition to writing, Tamara plays bassoon and enjoys bringing together artistic expressions to create powerful expressions of human life. Her collaboration with Dan Sedgwick and Marji Gere, "Ride: For a Lady Wheeler," explores the intersections of race and gender in the 1890s. Tamara is excited to join Sonad this summer and support writers as they authentically express their history, hearts, and minds.
ROBERT BLAKE, piano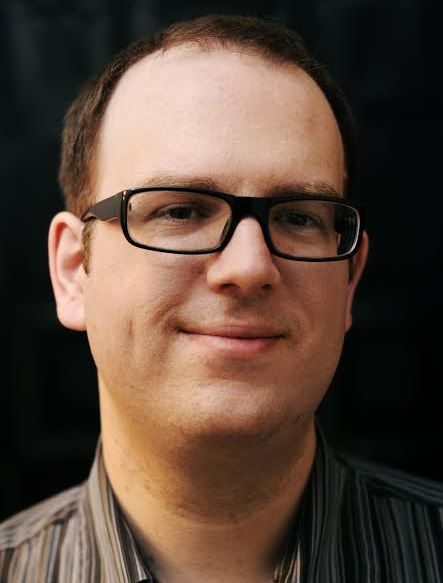 Robert L. Blake is a Los Angeles-based conductor and pianist. He is active in regional opera, recently leading productions of Così fan tutte, Hansel and Gretel, and Otello with VTO and LTD Opera. He is music director emeritus of the Corelli Ensemble. Around LA, he can be heard playing piano, harpsichord, and occasionally other keyboard instruments with singers and instrumentalists, performing music from the 16th century to the present. He studied at the University of Southern California and the College-Conservatory of Music at the University of Cincinnati (CCM). In his formative years, Robert was a piano student of Eric Stumacher, and a frequent participant at Apple Hill. He served for several years as clarinetist in the Keene Chamber Orchestra.
BRIAN FRIEDLAND, composition coach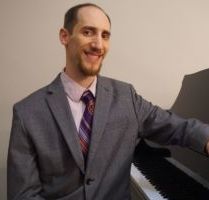 Composer/pianist Brian Friedland's music displays creativity through a large and varied body of works. His recordings include compositions for chamber orchestra, big band, strings, brass, saxophone quartet, prepared piano, and many small jazz groups. While rooted in jazz piano traditions, his compositions also show his love of genres ranging from Balkan Folk to classical minimalism. In addition to leading several jazz ensembles, his projects include an ongoing series of comedic songs inspired by commercial products and a quartet that blends sonic exploration, funky grooves, and keyboard drums. Friedland has released three albums, performed at venues across the US and internationally, and frequently performs and collaborates in his hometown of Boston. Grammy nominated composer and musical collaborator Kim Richmond describes Friedland's music as "not only professional quality material, but inspirationally crafted, an excellent and interesting mix of art works."
ILYA FRIEDBERG, piano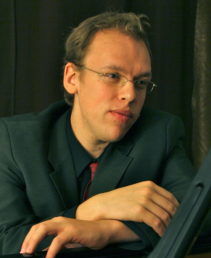 ILYA FRIEDBERG has been praised as a "poet of the piano with a magical touch that can bring a fresh view on much-played pieces." At home on the stage as both a soloist and chamber musician, Ilya is an acclaimed piano performer, composer, and conductor, as well as a very active promoter of new music. A winner of multiple international competitions, Ilya has enjoyed collaborations with great artists such as the Pacifica Quartet, Vladimir Ashkenazy, Claude Baker, Mark Kaplan, Evelyne Brancart, Tim Noble, Carol Vaness, Uriel Segal, and Eric Stumacher. He has performed worldwide in concert halls such as Small Philharmonic Hall in St. Petersburg, Carnegie Hall, and other venues across Europe and the United States. Current a resident of Chicago, Ilya was a student of Menahem Pressler and served as his assistant for five years at Indiana University.
MARJI GERE, violin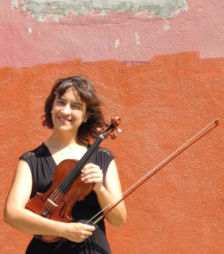 MARJI GERE lives and works in Somerville, MA, the city that gets adequate sleep. She plays violin in classical, pop, and experimental settings and maintains a private violin/piano studio. This past year, in partnership with the Mystic Learning Center, Mystic Tenant Association, and the Somerville Housing Authority, she and pianist/composer Dan Sedgwick founded Around Hear, a free chamber music series and artistic mentorship and exchange program based in the Mystic River Development, a public housing facility in their neighborhood. In support of this work, they have received grants from the Somerville Arts Council, St. Botolph Club Foundation, and Boston Foundation. Learn more at www.aroundhear.org.
DAN SEDGWICK, pianist/composer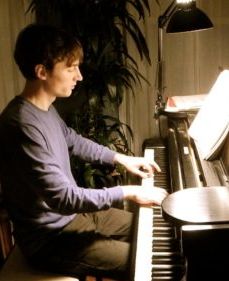 Pianist/composer DAN SEDGWICK lives in Somerville, MA. His current and recent composition projects include theatrical chamber music interwoven with spoken text (for the Sonad Project and Dilijan Chamber Music Series of L.A.), an assortment of rounds in experimental tunings (for the 2018 debut recording of music/puppetry collective An Exciting Event), and a sonata for violin and piano. In collaboration with violinist Marji Gere, he co-directs and performs for Around Hear, a free chamber music series and artistic mentorship/exchange project in the Mystic Activity Center of the Somerville Housing Authority
******************