…..Article in Keene Sentinel, March 22, 2010:
"A LONG JOURNEY FROM NH TO IRAQ: With help from Eric Stumacher and Sonad Project, Iraqi musician receives cello"
by Sarah Palermo, Sentinel Staff
It took an international team of shipping companies and diplomats completing several complicated maneuvers to bring the cello from New Hampshire to Iraq.
But it only took a moment for Sdiq Aziz to become infatuated with his instrument.
'You can't imagine how much I am happy.' he wrote in an e-mail to the man who arranged his cello's 6,000 mile journey.
His joy needs no translation, and that's the message of the Sonad Project, says its founder, Nelson resident Eric Stumacher.
'This is one of the nicest human beings on the face of the earth…The message is that people are beautiful around the world, and the goal of the Project is to use not only music, but all arts to cross human divides and connect people,' said Stumacher, the former executive director of the Apple Hill Center for Chamber Music in Nelson.
'We are bombarded with negative news from over there … and here we have this incredible positive story with a happy ending,' he said.
Stumacher met Aziz in 2006 as part of Playing for Peace, a program that brings musicians from war-torn regions of the world, such as Ireland and the Middle East, to Apple Hill to practice and perform together.
While he was here, the center arranged for Aziz to borrow a cello. He began playing 13 years ago, but for most of the three years since he returned to Iraq, he's been without an instrument and unable to play.
He sent an e-mail to Stumacher in December, hoping for help from the Sonad Project. Stumacher founded Sonad to expand Apple Hill's reach beyond the musicians who are able to come to New Hampshire. The Project is currently raising funds to purchase a Steinway Concert Grand Piano for an organization that provides music instruction and concerts for refugee camps and villages in the West Bank and Lebanon.
The e-mail was 'heart-rending,' Stumacher said. 'He cares about playing cello more than anything in his life.'
Stumacher promised to try, but wasn't very optimistic – until a spare cello popped up only a few miles away.
Brattleboro-based violin maker Douglas Cox told Stumacher he happened to have a cello in his studio that wasn't being used, and decided to donate it after hearing Aziz' story.
Then, on February 5, the cello's remarkable journey began.
Stumacher called a friend, who happens to be the US Consul General in Jeddah, Saudi Arabia.
The Consul called the US Embassy in Baghdad and tried to arrange clearance for the instrument to arrive there and for Aziz to pick it up.
But 'it turned out, the US Embassy in Baghdad — understandably, because of the violence — is unbelievably hard to get things into,' Stumacher wrote.
The cello was diverted to Kuwait, then Dubai, then northern Iraq.
First, it was in the care of UPS, then DHL, and finally the US Recovery Reconstruction Team in Erbil, Iraq.
'We had all these people working on it, and then all of a sudden we got this amazing message that it had arrived,' Stumacher said.
All through the politics and the strategies, Aziz waited.
'I was reading all the e-mails…and I was praying for it. You can imagine what I was thinking about, one month waiting,' Aziz wrote in an e-mail to The Sentinel.
For his part, Stumacher said he worried all the work might be for naught. 'I was concerned it would be blown up into a million pieces.'
But soon after it arrived, Aziz sent another e-mail: 'Everything is not just okay; it's amazing.'
When asked what playing his new cello was like, Aziz says words fall short: 'You can't imagine. I can't tell you that,' he wrote to the Sentinel.
His expressions in the photos of the cello's arrival — unwrapping it from its protective layers of plastic, and sitting down, at last, to play — bridge language barriers and thousands of miles.
Playing again, finally, he's at home.
Sarah Palermo can be reached at 603-352-1234, extension 1436, or [email protected]"
****************************
….FLASH UPDATE! SDIQ HAS HIS CELLO! CHECK OUT PHOTOS JUST RECEIVED FROM US RECOVERY RECONSTRUCTION TEAM IN ERBIL, IRAQ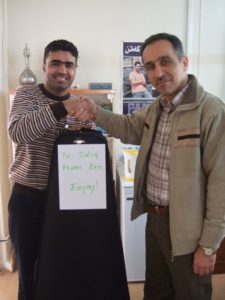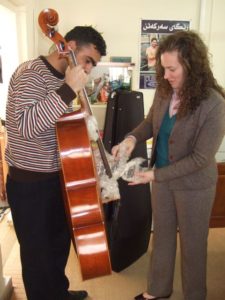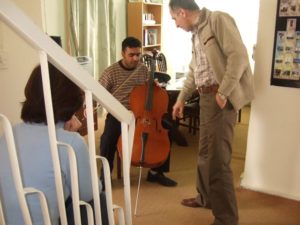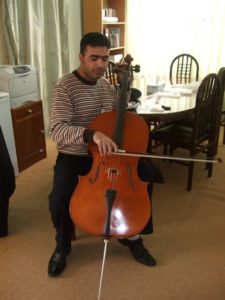 "Hi, Eric,
Thank you so much for the cello. Every thing is not just ok; it amazing. You can't imagine how much I am happy.
Warmest regards, Sdiq" (e-mail message)
….March 3:  CELLO HAS ARRIVED IN ERBIL
We just received the following e-mail message from Arkos Aziz of the US Recovery Reconstruction Team in Erbil:
"Finally the Cello is at our office I will send you some photos today or tomorrow.
Best, Aziz"
Hooray! Sdiq should have his cello shortly.
…UPDATE FEBRUARY 28
The cello is at the  UPS warehouse in Iraq. Many members of the US Embassy Diplomatic Corp in Baghdad and Erbil, and the good folks of Shipping Shack in Keene, NH,  have been working with dedication to sort this out and get the cello shipped to the US Recovery Reconstruction Team in Erbil, Iraq, where Sdiq will pick it up. As expected, this has been quite a saga, and we are getting close. Keep those fingers crossed, and cross your toes as well.
Original post follows:
(Feb 5, 2010)
In early December, Eric Stumacher received a facebook and e-mail message from Sdiq Aziz, a cellist from Iraq whom Eric coached at Apple Hill in 2006 in a Haydn Trio chamber music group.
Sdiq explained that he has been without a cello for three years and that he cares about playing cello more than anything. He asked Eric if Sonad could somehow find him a cello. Eric  e-mailed back that he would see what was possible.
One month after after Sdiq's plea, Eric received a fantastic message from Douglas Cox, a fine luthier from West Brattleboro, VT and a good friend (www.coxviolins.com). Doug had decided  to donate a cello to Sonad for Sdiq, an amazing, great, and beautiful gesture.
Martin Quinn, longtime friend and currently US Consul General in Jeddah, was very pleased to hear this news. He contacted appropriate members of the US Diplomatic Corps in Washington and the US Embassy in Baghdad. The US Recovery Reconstruction Team in Erbil, Iraq emerged as the planned point of delivery.
As of this writing, the cello is enroute from UPS in Dubai to UPS in Kuwait, where it is to be transferred to DHL, who will deliver it to the US Recovery Reconstruction Team in Erbil.
Fingers crossed! If you believe in prayer, now is the time.
Sonad is most honored to be able to provide Sdiq with this instrument. We cannot thank Doug Cox, and all those who have helped in this epic cello journey, enough. In a country and a region so torn by horrible events,  in a place where culture and beauty have been so seriously challenged, Sonad hopes and trusts that Sdiq and his cello will be a beacon for what is possible and good.
"Love, love, love, that is the soul of genius." – W.A. Mozart