Donate

SECURE ONLINE CONTRIBUTIONS OF ANY SIZE are gratefully accepted. No contribution is too small or too large. Thank you in advance for your consideration, your generosity, and your partnership, so vital to our mission of inspiring the crossing of human divides through artistic performance.
If preferred, CHECKS PAYABLE TO Sonad Peace Project can be mailed to:
Sonad
PO Box 88
Sullivan, NH 03445 USA
For details about stock and annuity gifts, please contact our office.
WE ENVISION A SUSTAINABLE SONAD ORGANIZATION which pursues and expands the vital work of our mission in the context of active and ongoing outreach through internet, grants, and personal cultivation.  We seek to inspire as many major donor partnerships as possible, as well as to inspire an ever-expanding coterie of donor partners in the $10- $200 range.
Sonad is a 501(c)(3) US non-profit organization, incorporated in California with an office in New Hampshire. Sonad's US Federal Tax I.D. is 42-1746778. Contributions to Sonad are tax-deductible according to the United States Federal Tax Code.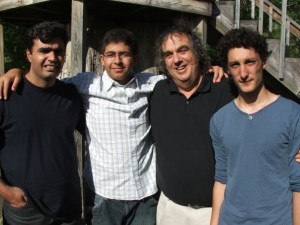 (l to r): Sdiq, cello, Iraq; Zaid, flute, West Bank; Eric, coach, USA; Philip, piano, Israel
GOAL
Sonad Project seeks $2.3 million in operating funds, to firmly establish the organization as sustainable while bringing to fruition our exciting projects in 2014 and beyond.