"Never doubt the power of a small group of dedicated, committed citizens to change the world; indeed it is the only thing that ever has."                              Margaret Mead              
WHEN
Tuesday, August 22, 2017, 3 PM – Saturday, August 26, 2016, 8 PM (optional alternate departure Sunday August 23 at 10 AM)
WHERE
Camp Glen Brook (www.glenbrook.org), is located in Marlborough, NH, in the scenic Monadnock Region of Southwestern New Hampshire, a 2 hour drive from Boston and a 4 hour drive from New York City.
DRIVING DIRECTIONS: Use this address for GPS:
CORE GROUPS
I. Chamber Music Groups
Brahms String Sextet in G, coached by Eric Stumacher
 John Steinmetz: Three Pieces for  for for Double Wind Quintet (2013) -originally commissioned by Sonad  – coached by Eric Thomas
 Chamber Music Composer/Performer Class, coached by Dr. Stamos Martin
Steinmetz: Woodwind Quartet, coached by John Steinmetz
 Mendelssohn: Octet for Strings, coached by Ilya Friedberg
 Beethoven Piano Trio in E-Flat, Op. 1 #1, coached by Marji Gere
Mozart: Sonata in D Major for piano four-hands, coached by Dan Sedgwick
Cello Duo: coached by Jacob MacKay
II. Author's Group: coached by Tamara Plummer
III. CLASSES in other arts TBA – will be offered for all workshop participants as part of the artistic diversity of the Sonad workshop experience.
THE SONAD GLEN BROOK WORKSHOP EXPERIENCE
All participants will have a focused and relaxed experience in their core group, culminating in a sharing performance/reading for the workshop community and invited guests. Participants will also participate in the other disciplines of the workshop. Community activities such as concerts, skit-night, parties, and abundant recreation, combined with excellent organic food, will round out the Sonad workshop experience. Glen Brook, with scenic views of Mt. Monadnock, offers dorm facilities, lodging for companions and families, bathrooms in close proximity to sleeping rooms, a large organic garden, a pond with boats, hiking trails, and sports facilities. The participatory Sonad experience will include meal set up and clean up for and by all members of the workshop community.
COST
$735 per participant, plus $90 admin fee, $825 all-inclusive.
$350 for significant other/companion.
$100 surcharge for single room.
Reasonable family rate on case-by-case basis.
Sonad workshops aspire to the highest possible levels of artistic and expressive excellence. Further, we bring life to Sonad's mission to use participatory arts projects to build community across lines of difference. Sonad Glen Brook workshops serve as part of Sonad's ongoing research to learn how the music-coaching model is reflected in other arts disciplines. Sonad aspires to make the experience of crossing human divides available to everyone, in a variety of disciplines, regardless of previous experience.
"If we genuinely want the horrors of the world to cease, we must  fully commit ourselves to the concept that every voice, every life, is a treasure to be love, and protected, and cared for."            Eric Stumacher
PREVIOUS SONAD GLEN BROOK WORKSHOP MATERIALS
1) Please read about and peruse a previous Sonad Glen Brook Workshop, including photos, schedule, and other details, at:
http://sonadproject.org/2010/08/26/sonad-workshop-at-glen-brook-marlborough-nh/
2) The short stories created in a previous authors group at Glen Brook can be enjoyed at:
http://sonadproject.org/2010/10/15/sonad-glen-brook-authors-stories
3) A 2 MINUTE DOCUMENTARY BY EMILY FLEMMING
PLEASE EXPLORE THE  WEBSITE, sonadproject.org,  for further information about Sonad's mission, goals, history, and worldwide activities.
****************
SONAD GLEN BROOK WORKSHOP PARTICIPANT COMMENTS
"Thank you for an absolutely incredible, incredible week. It was just fantastic – there are not even words I can use to describe it. I met such wonderful people, reconnected with friends from college, played amazing music  –just to spend four days surrounded by other talented artists, listening to incredibly beautiful music all day everywhere I walked — it was just phenomenal – and today, the Shostakovich was incredible—and I loved the Tetris, and the Brahms of course always makes me weep — and the readings were beautiful."  ME
 "Basic friendliness. Good projects. Composer group had multiple good outcomes. Good food, facility contributed to good atmosphere and good working conditions. Nice combination of fun and work. Lots of wonderful people around, and an atmosphere that encouraged nourishing conversation as well as fun." JS
 "The participants in the painting segment were BRAVE, enthusiastic and curious, like young children first discovering the glory of color. It was refreshing to watch these artists discover another venue for their voice." JT
 " I left feeling extremely in touch with who I was as a person.  I felt loved.  I felt appreciated. And, most importantly, I felt alive. This workshop awakened a spirit in me that was dead for so long; a spirit that will not be vanquished so easily anymore.  Thank you!" BP
" WHAAAT?!! LV Beethoven" — joke at Skit Night"
 ********************
GLEN BROOK AUGUST 2016 WORKSHOP COACHES
ERIC STUMACHER, piano/director
Eric Stumacher, founder and director of the Sonad Project, has performed concerti, solo recitals, and chamber music concerts worldwide to critical acclaim for over forty years. For thirty-five years, Eric served as founder, pianist, and executive and artistic director of the Apple Hill Chamber Players, Apple Hill, and the Apple Hill International Tour and Scholarship Project, before resigning in October 2007 to establish the Sonad Project. He is a graduate of the University of Pennsylvania and The Juilliard School. Eric also serves as music director and conductor of the Keene (NH/USA) Chamber Orchestra. He resides in Nelson, NH with his wife Kathy, violist and Sonad administrator, and they have three amazing children and seven astonishing grandchildren.
TAMARA PLUMMER, author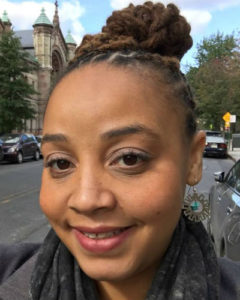 Tamara is a story teller, facilitator, guide, communicator, daughter, aunt, friend, trainer and binge watcher. As the Asset Map Coordinator at Episcopal Relief & Development, she works with staff of The Episcopal Church to empower church communities to embrace, hone and share their stories of ministry, mission and faith. Her love for poetry and writing were developed and nurtured as a student at Bard College. She received a MA is Education from Bowling Green State University and worked with student leaders at The University of Vermont to plan and execute events. In addition to writing, Tamara plays bassoon and enjoys bringing together artistic expressions to create powerful expressions of human life. Her most recent collaboration with Dan Sedgwick and Marji Gere, Ride: For a lady wheeler, explores the intersections of race and gender in the 1890's. She is excited to join Sonad this summer and support writers as they authentically express their history, hearts, and minds.
ERIC THOMAS, clarinet
Praised as a virtuoso musician by Juilliard String Quartet founding member Robert Koff and cited as "the finest clarinetist in the world" by classical expert Gene Pack, Eric Thomas received the bulk of his training from Peter Hadcock during his studies at New England Conservatory of Music. He has received critical acclaim from the New York Times, the LA Times, the Boston Globe, and Downbeat Magazine. Eric has served as assistant conductor to Ms. Sarah Caldwell of the Opera Company of Boston, assistant conductor of the Phillips Exeter Orchestra, Interim Conductor for the orchestras of Phillips Academy Andover and Colby College, and guest conductor of the Bangor Symphony. An active clarinet performer, he has appeared as guest artist with the Apple Hill Chamber Players, the Sylvan Winds of New York City, the Bravo Festival at Vail, the Moab Music Festival, the Boston Pops Traveling Ensemble, and the Cabtrillo Festival of Contemporary Music. Eric is Director of Bands and Adjunct Professor of Clarinet at Colby College. Eric is also the Director of Performance at the University of Maine Farmington, where he directs the Orchestra, Band, Jazz Band, and Chamber Music programs.
DR. STAMOS MARTIN, composer/cellist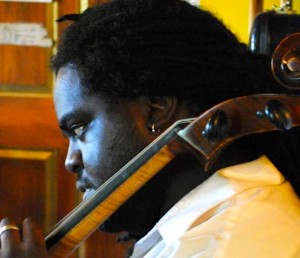 Stamos Martin was born in 1985 in Dallas Texas, where. at the age of 8, he became interested in music. Only a few years after beginning the cello, he began to write music. He is a graduate of Catholic University of America and the University of Missouri-Kansas City. Dr. Martin was prize-winner in the NAACP National-AT-SO competition in 2004, he was awarded a commission for the Benjamin T. Rome School of Music in 2006, and and he was awarded a commission by the Young Strings program of the Dallas Symphony Association in 2011.  Stamos has received several fellowships from Sonad and Apple Hill. In 2013, Dr. Martin received his Doctoral Degree at the University of Missouri-Kansas City, where he studied with Chen Yi, Zhou Long, Paul Rudy, and James Mobberley.
ILYA FRIEDBERG, piano
ILYA FRIEDBERG has been critically praised as a "poet of the piano with a magical touch that can bring a fresh view on much-played pieces." At home on the stage as both a soloist and chamber musician, Ilya is an acclaimed piano performer, composer, and conductor, as well as a very active promoter of new music. A winner of multiple international competitions, Ilya has enjoyed collaborations with great artists such as the Pacifica Quartet, Vladimir Ashkenazy, Claude Baker, Mark Kaplan, Evelyne Brancart, Tim Noble, Carol Vaness, Uriel Segal, and Eric Stumacher. He has performed worldwide in concert halls such as Small Philharmonic Hall in St. Petersburg, Carnegie Hall, and other venues across Europe and the United States. Ilya is a student of Menahem Pressler and has been his assistant for the past five years at Indiana University.
MARJI GERE, violin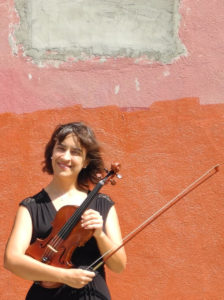 MARJI GERE lives and works in Somerville, MA. As a violinist, she is dedicated to the chamber music repertoire and lifestyle, and is most passionate and at home in mixed ensembles (surely the result of growing up in a house with a pianist and two woodwind players). Outside of the chamber, Marji writes libretti and essays, draws cartoons, studies Spanish, welcomes children into the wild world of music, and leads workshops in "active listening" (most recently at the Newport String Project in Rhode Island, the Habla Institute in Mérida, Mexico, and the Harvard Graduate School of Education.)
DAN SEDGWICK, pianist/composer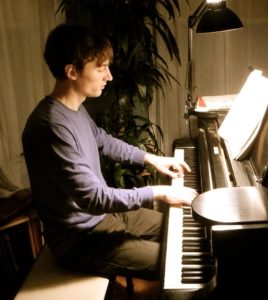 Nurtured by Burncoat High School's ear-opening music department in Worcester, MA, DAN SEDGWICK studied music at Harvard and then Rice University, graduating with a doctorate in composition in 2009. His current and recent composition projects include theatrical chamber music interwoven with spoken text (for the Sonad Project and Dilijan Chamber Music Series of L.A.), an assortment of rounds in experimental tunings, and a sonata for violin and piano (for violinist Marji Gere). As pianist, Dan has performed chamber music for the Dilijan Chamber Music Series of L.A., Newport String Project, Apple Hill Summer Concert Series, Equilibrium Concert Series, Hill & Hollow Music, and many others.
JOHN STEINMETZ: composer/coach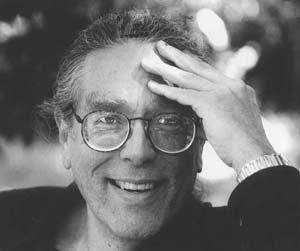 John's Quintet has been released on CDs from the Borealis Wind Quintet (Helicon HE 1030) and the Camerata Quintet (Crystal CD756). His Etude No. 5 can be heard on "Bassoon Images" by bassoonist Benjamin Coelho (Albany Records TROY 608). His Sonata for bassoon and piano has been recorded by Michael Burns and Inara Zandmane (Mark Masters 8084).
One and Many, which features children and guest musicians performing alongside a professional ensemble (including sections composed by the children), was featured by the Apple Hill Chamber Players on their "Playing for Peace" tours in the Middle East and Northern Ireland. Mixed Blessings and War Scrap were commissioned by the innovative Los Angeles series Pacific Serenades. Prairie Blessings combines a solo bassoon with a computer, electronics, and slides of unplowed Illinois prairie. His sextet Simple Pleasures was commissioned by the South Bay Chamber Music Society to commemorate their 40th anniversary in 2003, a month before the first performances of his new Concerto for bassoon and orchestra, commissioned by the Los Angeles Chamber Orchestra, the Keene Chamber Orchestra (NH), and the Santa Rosa Symphony. In 2009 the Amman Symphony Orchestra in Jordan premiered his Together for orchestra, beginning string players, and guest musicians playing local music (in this case, playing the traditional Arabic instruments oud and qanun).
John has also written comic pieces that poke fun at the concert ritual and other human foibles. In Possessed a solo cellist speaks the thoughts that run through a performer's mind during a concert. The Creation of the World for solo bass covers the whole of history with music, a beach ball, a headlamp, and individually-wrapped cheese slices. What's Your Musical I.Q. (A Quiz) combines musical examples and test questions to parody music appreciation classes, standardized tests, and magazine quizzes.
DESCRIPTIONS OF WORKSHOPS/CLASSES BY THE COACHES
AUTHORS GROUP
      The authors group at the Sonad Glen Brook Workshop will consist of up to 8 participants of various ages, backgrounds, and experience levels. Participants in this workshop will write a 1- 2 page work based on a movement of chamber music in the workshop. The chamber music work will be selected upon your acceptance, in consultation with the coach.  At the workshop, each of you will workshop your composition, giving and receiving constructive feedback.  You will have extensive opportunities to work with the live musicians playing and coaching the piece of music you will be focusing on. Ultimately you will  present your work in the concert at the end of the workshop. There will also be opportunities for all of you to work with music and poetry, as part of our goal is to encourage cross-pollination among the arts.
SONAD WORKSHOP COMPOSER'S ENSEMBLE 
The Sonad Glen Brook Workshop will include a composers' ensemble of 3-4 members. Upon admission to the workshop, each ensemble member will consult with the coach and begin composition of a short piece (5 minutes or less) for the group. At the workshop the ensemble will rehearse and perform each other's pieces. No previous composing experience is necessary. Compositions may be in any style.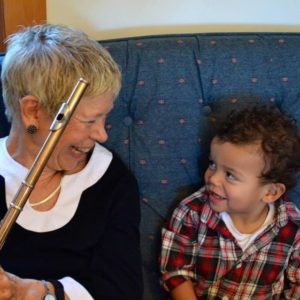 During the workshop we will  learn how to make the notation, the compositions, and the performances as communicative and expressive as we can.Our approach will focus on amplifying the most successful qualities in every piece, guided by each composer's ear and taste. Composers are encouraged to write for the full ensemble, but may choose to write for a subgroup.  Compositions may be  any length from 30 seconds to 5 minutes. 
Composers will need to bring clear, easy-to-read scores and parts. (As players, you know what it takes to make parts easy to read.) Music may be handwritten or computer printed; bring extra paper and/or your computer so that you can make revisions. We will have a printer on hand.
APPLICATION AND REGISTRATION